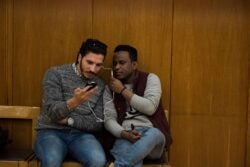 Over the past two years, more than 400 students have connected and explored both how business and culture are intertwined and how essential it is to be aware of these themes in our current internationalized world. Business & Culture: A Virtual Practicum, a virtual exchange program that connects students from Egypt, Lebanon, Libya, and the United States, equips young people with essential skills such as communication, problem-solving, and collaboration in a global team environment. Through assignments and a group capstone, participants learn a framework to develop their cultural competence and acquire skills for practicing cultural competence in their universities, business interests, and daily lives.
The William Davidson Institute and its partners have run the Business & Culture program four times since 2020. This has not been without its challenges, such as adjusting to different class structures, cultural differences, expectations, and of course, the coronavirus pandemic. With each new semester, we gain valuable lessons and debrief on how we can improve the program for the next cohort. Based on the most recent semester in spring of 2022, we have identified three lessons for creating deeper peer-to-peer connections, facilitating smooth, cross-cultural teamwork, and selecting guest speakers that will enrich the virtual exchange.
Provide multiple opportunities for building connection
At the beginning of the program, students from each location are put into cross-cultural teams, typically consisting of five to seven students from the U.S. and MENA, to work on the capstone project. The capstone group project offers a great opportunity for students to make deep connections with a few peers from other countries. However, students communicated that they wanted more opportunities for such connections. Given their busy schedules during the semester and minimal time to connect beforehand, meeting outside the classroom may be very limited. We have found that adding Zoom breakout rooms during the synchronous (real-time) sessions offers a space for students to connect and get to know each other. However, we also found that to be effective, breakout rooms need to have a purpose – whether for students to have informal discussions, discuss the topic of the connected session for sharing out afterwards with the full group, or work on their team assignments. At first, students are quieter and apprehensive with one another, which is natural. Purposeful breakout rooms, especially in the beginning of the program, are effective at getting students to connect with one another on a personal level which they can then continue outside the classroom.
Additionally, incorporating Padlet, an online platform that allows users to upload content to virtual bulletin boards, helped us make these deep connections happen. Padlet gives students the opportunity to make initial introductions through short written bios, photos, and videos before connecting in their first virtual connected session. Students are able to get a glimpse into their counterparts' backgrounds and identify any similarities to which they can relate. Padlet offers a free version which met our needs, while other institutions might find a different platform works best for them.
Set young people up for success in cross-cultural interactions
Facilitating smooth cross-cultural peer interactions was challenging at first, as students have different expectations about what it means to be on an international team. Students might expect their instructors to be heavily involved in their teams and tell them exactly what to do, but that is not the case. The instructors want each team to figure out their own dynamic and how to best work together. Some students have a sort of "culture shock" when working in these types of teams because they are learning about their counterparts' cultures and how they communicate, not to mention a big time difference, and how they work, which can be completely different for each and every person in the team.
We learned that students benefit from explicit exploration of how teams can work together effectively; this includes both general principles of teamwork as well as specific challenges that cross-cultural teams are likely to face. Including this information upfront is beneficial in helping students work effectively in their teams by setting their expectations and preparing them for this type of experience. We dedicate one session upfront to effective teamwork, which is led by an expert from the University of Michigan Ross School of Business. The interactive session focuses on high performance in cross-cultural teams and incorporates activities and breakout rooms. Following this session, students begin working on team assignments that reinforce the important points they learned in the cross-cultural teams session, as well as starting to identify team problems as they arise and knowing how to resolve them. On average, students are able to handle most conflicts that come up in their teams – whether it is miscommunication, lack of communication, or even lack of participation. Facilitators and instructors get involved only with more serious issues.
Choose guest speakers who will resonate
Each of the four offerings of the Business & Culture program has featured guest speakers, but not all have resonated with the students. We learned that the most effective speakers explicitly reference the content of the course and engage students with questions and breakout rooms. Hady Kahaly, a founder of Ixsir winery in Lebanon, was a successful guest speaker because students had previously discussed the winery in a case study and gave presentations on their findings, which Hady provided feedback on. When students have not had opportunities for practical application of the topic a guest speaker is sharing about, they have been disengaged. For this reason, we will be reducing the number of guest speakers in the course going forward.
When deciding to incorporate guest speakers, implementers of virtual exchange programs will find it useful to ask themselves a few questions. For example, does this guest speaker have expertise that current facilitators do not have and will help round out the experience for participants? Will this guest speaker share relevant things to the program? Program implementers would be wise to share session materials and objectives with potential guest speakers to properly prepare.
We plan to implement these lessons learned in our next Business & Culture offering in 2023. We hope others in the field can take these lessons and apply them in their own programming, especially if they've faced the same challenges. Thoughtfully examining previous iterations of our program has helped us to improve Business & Culture with each semester, so we hope other implementers are inspired to find and share lessons from their own virtual exchanges.
David Estrada is a Program Coordinator for William Davidson Institute's (WDI) Education Sector. He brings rich international experiences and a host of skills to WDI. Previously, Estrada was with the University of Michigan Center for Global and Intercultural Study, where he was an international education advisor. He has also worked on localization of content as a translator, and as a web and graphic designer. He holds a BA in Russian & Chinese from Arizona State University and participated in the Fulbright English Teaching Assistantship program in Yerevan, Armenia. In addition to speaking Russian and Mandarin, he is a fluent Spanish speaker.