Engage with Virtual Exchange
Providing opportunities to get involved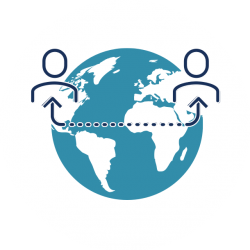 Vision
The Stevens Initiative aims to give every young person the knowledge, skills, and experiences they need to prosper in an increasingly interconnected world.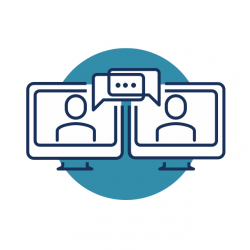 Approach
Virtual exchange uses online technology to connect young people around the world to learn and work together so they can build marketable global competencies and deepen their understanding of and ability to engage with people from other backgrounds.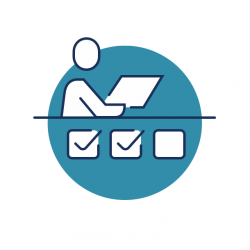 Engage
There are several ways to get involved in virtual exchange through the Stevens Initiative. We encourage you to review the different pathways below to find the option that best fits your needs.
Join a Program
Schools, districts, postsecondary institutions, and nonprofit organizations can express interest in having young people participate in a virtual exchange program implemented by a Stevens Initiative grantee. Joining an existing program allows institutions and educators to benefit from the grantee's content, partnership network, technology, facilitation training, and other forms of guidance and support and can be a great way to have a first experience with virtual exchange.
Join a Program

United States, Morocco, and United Arab Emirates: Design with a Partner
Educational institutions and nonprofit organizations in the United States, Morocco, or the United Arab Emirates can propose to design a virtual exchange program. The Stevens Initiative provides a matching and co-designing process to assist potential partners with co-creating quality virtual exchange programs that connect youth in Morocco or the United Arab Emirates with youth in the United States. The submission of an assessment form does not guarantee funding or a match.
Download the Expanded 'Design With a Partner' Pathway Chart PDF
Fill Out the Form

Apply for a Grant
The Stevens Initiative runs competitions to give grants to educational institutions and nonprofit organizations that administer virtual exchange programs connecting youth in the United States and the MENA region.
The next Virtual Exchange Grant Competition should be announced in spring 2022.
Our Grants

Attend an Event
The Initiative hosts events, both in-person and online, throughout the year to provide tools for and knowledge about virtual exchange implementation. These events are open to any interested individual or organization looking to learn more about virtual exchange.
Info Sessions
Info Sessions are half-day presentations (in-person or online) providing an introduction to virtual exchange, the Stevens Initiative, and basic steps for getting involved in a program or starting a new one.
Workshops
Workshops are two-day in-depth trainings during which attendees learn about several critical aspects of successful virtual exchange programs, such as international partnerships, facilitation and facilitator training, and monitoring and evaluation.
Webinars
Webinars are hour-long online, panels, interviews, or presentations on a range of topics such as different approaches to virtual exchange, evaluating virtual exchange programs, and using virtual exchange as part of campus internationalization.
Upcoming Events
November 10, 2020
After learning about virtual exchange, many educators and institutions don't know how to make this global education opportunity possible for the young people they serve. There are many pathways to engage in virtual exchange, including researching and joining existing programs, piloting programs at a small scale with international partners, or tapping into…
See All Events
Explore Resources
The Stevens Initiative has created and collected several tools and resources, including publications and presentation recordings, to help anyone interested in virtual exchange learn how to design and run their own virtual exchange program.
Learn More