Omar, who participated in the spring semester of 2021, and Nelly, who participated in the fall semester of 2022, both experienced what it is like to make a real difference in their community through collaborating on a virtual binational team. Their experience with virtual exchange had a direct impact on their career focus. 
Describe the business concept your binational team designed to address a UN Sustainable Development Goal.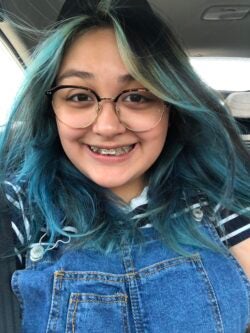 Omar: My team designed a blockchain-based project that aims to minimize food waste by bridging the information gap between different levels of the food supply chain.
Nelly: We created a redistribution and repurposing system through a website to provide free access to consumers in the U.S. and Kurdistan, Iraq.
GSSC is a business competition, where the top five teams present live at a virtual global business expo to a panel of judges and the top three teams are awarded a small grant to further develop their concepts. Both of your teams placed first and received a $2,000 small grant. How did your team use the small grant?
O: Our grant helped us connect with a blockchain expert in the U.S. He supported us to further understand and advise our business concept and business plan.
N: Our binational team decided that the grant should be used by our Iraq partners since it would be more feasible to jumpstart the idea where there isn't much competition. Students from Duhok Polytechnic University are currently working on the website for our business concept.
In your opinion, what skills did you gain through the program and why are they important for youth preparing for the workforce today?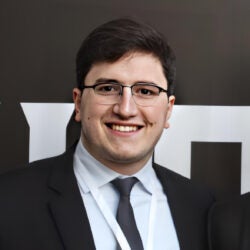 O: The program equipped me with valuable skills such as project management, teamwork, and critical thinking. Learning how to work with team members from different age groups and how to be more adaptable when dealing with people from different backgrounds have been essential to my success as an entrepreneur. In my opinion, resiliency – being able to stay consistent and make something of every opportunity – is the most important skill for success in the current job market.  
N: The program has supported me in developing critical thinking and cross-cultural communication as well as the ability to brainstorm and develop a concept. Cross-cultural communication and adaptability are important skills to recognize and adjust to changes that could occur in our personal life or academic and work life. Useful skills in a chaotic world! As a team, we had to tackle unforeseen circumstances that would make us adapt at the last minute. That ability to navigate ambiguity, which this program also helped me gain, is a key to success. Finally, the creative problem-solving I learned allows me to use innovative ideas to solve problems within my community and life.
What is your favorite memory from the program?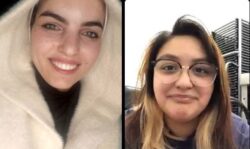 O: After I finished the final pitch for the Virtual Global Business Expo, I was really nervous and wanted to make sure our team's work didn't go to waste. My favorite memory was celebrating with my binational team on Zoom after we won first place. It was a wholesome moment that I will never forget!
N: The most memorable part of the program was the joyful smile and cheery laughter of Fatima, my teammate in Jordan, whom I was meeting through Zoom. We initially had a language barrier, but Fatima's cousin would help translate our conversations and was a massive help. Fatima is truly the nicest and most wholesome person I have ever met. Along the way, we both learned about each other's cultures like our favorite foods, interests, and majors and are still friends after the program ended.
How would you describe virtual exchange for other young people?
O: I would describe virtual exchange as an excellent opportunity for students to work with people from different backgrounds and cultures, allowing them to gain a global perspective and develop valuable intercultural communication skills.
N: Virtual exchange is a great way to learn about other cultures and innovative ideas. A collection of great minds can produce something that can change our world. Furthermore, it allows for cross-cultural communication skills to be developed by students who are unable to travel but eager to be part of the conversation. 
How has the program influenced you personally? 
O: Global Solutions has inspired me to incorporate sustainability and social impact in my career as an entrepreneur. The program has shown me the potential of technology in addressing global challenges and inspired me to pursue projects and businesses that have a positive impact on society. Building upon what we did with the small grant, I established a successful blockchain consultancy business where we help other businesses start their blockchain-based projects. 
N: As a student, I felt very undecided about how I wanted to live my life. Global Solutions enlightened me about the effect we have on ecosystems that has led to climate change, pollution, and extinction around the world, sparking my interest to narrow down my field of study to Energy & Sustainability.
What are your plans for the future after having participated in the program?
O: As a professional, my future plan is to work towards making my country Jordan a tech leader the MENA region and in the world. I am passionate about contributing to the development of the tech industry in my country and creating job opportunities for the youth in my community.
N: I plan to pursue a B.S. in Chemical Engineering with a specialization in Energy & Sustainability and transferring to a four-year institution to further discover the people and companies I would like to work alongside. The world is my oyster and I'm trying to take opportunities to help find myself as a student and professional!
If you are interested in bringing this program to your institution, complete this form.
GSSC is implemented by IREX and is supported by the J. Christopher Stevens Virtual Exchange Initiative (JCSVEI). JCSVEI is a U.S. Department of State's Bureau of Educational and Cultural Affairs program administered by the Aspen Institute.