Ciana, who participated in the virtual exchange as part of a course for credit, and Khaoula, who joined the exchange as an extracurricular activity, were paired together to learn more about and from one another.
What attracted you to joining a class that included a virtual exchange?
Ciana: A flyer was emailed to me about a class on Transnational Feminism, which is a topic that I wanted to learn more about.
Khaoula: To be honest with you, what attracted me to this class was the fact that it was going to have both Moroccan and American students. That sounded really interesting to me.
Tell me about your partner.
C: Her name is Khaoula. It is not an easy name to pronounce. It takes some practice. We are still in touch on social media sharing pictures and events, updating each other. She recently sent me a photo of her and her friends on a picnic in the desert. She is very proud of her country.
K: Her name is Ciana and she is a psychology major. I still remember when she told me that her first major was not psychology, but actually biology. She did not really do well, but that did not stop her from starting over again. That shows her strong personality and that she is not the type of person to give up easily.
What are some of the things you learned about the U.S./Morocco?
C: I learned a lot about everyday life, about her favorite foods and traditions. She likes to eat fast food, but Moroccan fast food is different from American. She talked about eating a burrito with French fries wrapped inside, but she also talked about eating couscous on Fridays. I learned more about Islam, their holidays, and the importance of the moon calendar to certain holidays like Ramadan. Food is a topic that really brings people together across cultures. Everything was very positive.
K: I was mainly interested in holidays. We talked about Halloween and one thing I learned about it is that it is not really an essential holiday the way I thought it was. I believed that all Americans unanimously celebrate Halloween, but I was wrong. Ciana told me that celebrating Halloween is very much an individual choice.
What did your partner want to learn about the U.S./Morocco?
C: She was interested in some of our holidays, like Halloween. But she was especially interested in issues of diversity, race, ethnicity, and oppression. She viewed the United States as more diverse and having more issues around diversity than that of Morocco.
K: She was also interested in our holidays. We talked about Ramadan, Eid Al Fitr, and Eid Al Adha. She was interested in Moroccan cuisine as well. I told her about various traditional dishes such as tajine and couscous that she should try out if she ever gets the chance to visit Morocco.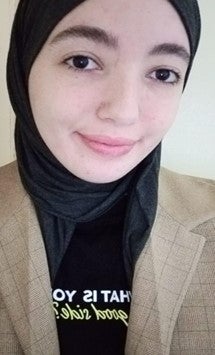 Were there any challenging or difficult conversations?
C: I also had a second male student that I was partnered with. We did not connect as much as Khaoula and I did. He had briefly lived in the United States, and it was a tough experience for him. He did not always feel welcomed, and he went back to Morocco. I know it was not easy for him to come to the United States or to leave.
K: Not at all. All our discussions went very smoothly and we even exchanged our phone numbers and our Instagram so that we could keep in touch. There was another student in a group that could not connect to Ciana the way I did. Other than that, I found no difficulties talking to her whatsoever.
Did the virtual exchange experience help you to better communicate across cultures?
C: My father is a first-generation American – his family is Liberian, and he used to live there – so my home environment is cross-cultural. I already knew that it is important not to judge others for being different. Morocco is not the United States. So, I knew I needed to try to learn to see things from their perspective. I enjoy learning about different cultures and feel this is very much needed in today's world. Cross-cultural communication also relates to my major, psychology. In psychology, I learned that having a common goal and structured environment where everyone feels safe is crucial to learning, and the virtual exchange experience provided such a space.
K: Yes, actually. It helped me realize that we should not judge people because they are different. Our differences are what make us unique. I used to think that all Americans are racist and rude, but this program, and especially Ciana, proved me wrong.
What did you learn about women's leadership through the class?
C: There are many kinds of leaders. Women leaders in Morocco are community leaders, they work on issues of local importance and seem to pay close attention to the local environment, especially to issues of sustainability.
K: What I learned most from this class is that women can achieve anything if they believe in themselves.
How did this experience contribute to your personal growth?
C: The virtual exchange is different from the normal classroom experience; it is a real-world experience. This was especially clear as our class was scheduled in the morning because of the time difference with Morocco. The opportunity to learn about another culture directly from students living in that culture is transformative.
K: It made me love participating in these kinds of projects. It made me eager to discover and experience new cultures and meet people with different perspectives to my own. It also taught me how to see things from other points of view. For example, in the last session we had in the project, there was a presentation that discussed queer rights. Although the topic was entirely against my cultural and religious beliefs, I learned to be more understanding and accepting of it.
What kind of change do you hope to make in the world?
C: I recently participated in Homelessness Awareness Week at Kennesaw State University (KSU) and one of the people there who was speaking about food security mentioned the idea that "good intentions are not enough." I want to join and participate in positive change with others, not alone on my own. It doesn't have to be a big change; it can be a small change, but it should be done together by listening and learning from others. With my parents' blessings, I am applying to serve in the Peace Corps after graduating from KSU and through Peace Corps, I hope to continue my journey learning more about the world's diversity and the challenges of being a global citizen.
K: I have been volunteering for almost two years as an English teacher in an orphanage through an association called Hope and Happiness. By this summer, I am hoping to join that association as a fully-fledged member and be a part of the change they are making. I really believe that it takes two hands to clap, so it is always better to join a group or work within groups if your aim is to bring about any real change.