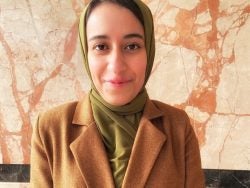 Hanan Mahmoud is among the 641 students who enrolled in fall 2019 to participate in virtual exchange. Traveling and studying abroad has always been Hanan's dream but her current circumstances make it impossible for her to leave her hometown Benghazi in Libya. "My father was kidnaped in 2014. To this day, we don't know where he is, or who's responsible, or if we will ever hear from him again. As the eldest daughter, I am responsible for providing and taking care of my family." Hanan is an applied linguistics major at the University of Benghazi in Libya.When she is not studying, Hanan works as a translator and an editor for a local news website to support herself and her family. When her teacher told her about the virtual exchange, she jumped on the opportunity. It offered her a window to the world at a time she needed it the most. Virtual exchange also provided Hanan the opportunity to form relationships with peer from around the world, something she thought wasn't possible.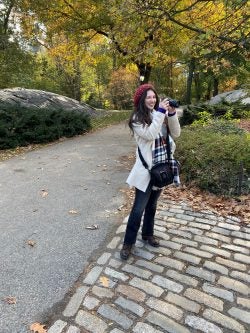 Evanthia Karageorge is a student in Virginia Commonwealth University in Richmond, where she majors in journalism. She and Hanan ended up in the same virtual group in the Fall of 2019, as part of the Connect Global: US-MENA, a virtual exchange program  that brings together college-aged youth in the United States and in the Middle East and North Africa for cross-cultural learning via online, face-to-face, small-group dialogue.
In October 2019, Evanthia and Hanan met for the first time via Soliya's Exchange Portal, an online video conferencing platform custom designed for virtual exchange. Hanan is the first Libyan that Evanthia ever met while Evanthia is the first American met by Hanan. For eight weeks, Evanthia and Hanan were joined by students from Morocco, Jordan, Maryland, and Michigan for online discussions around values, culture, politics, media, and current events.