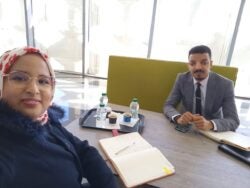 Law student Crystal had nearly lost hope that the United States could ever come to terms with its ongoing history of violence against people of color. But she found reason for optimism in an unlikely place – Morocco. Meanwhile, in Morocco, Chaimae gained a new appreciation for her country's ability to confront its history of human rights abuses in a direct and transparent way.
Both students, across the globe from each other, participated in an innovative new class this fall that connects students from Seattle University School of Law in the United States and Moulay Ismail University in Meknes, Morocco. The class, called Transitional Justice Legal Exchange, is a virtual exchange that explores how each country confronts the problem of state-sanctioned violence – in the United States, police brutality against communities of color; and in Morocco, a history of government violence against political dissidents.
"If you had asked people in Morocco 50 years ago whether they had hope for an end to violence, they would have felt the way I do now," Crystal said when reflecting on what she learned from her peers. "But the country created a reconciliation commission. They lifted up the stories of victims and held them in the light. Morocco put a wedge under that wheel of violence and stopped it."
Chaimae said Moroccans speak openly about the Years of Lead, a period of intense political violence and repression from the early 1960s to the early 1990s, and that has helped the country understand how to improve its justice system.
"This is not a taboo subject here. We have to be very honest about our history," she said. But she learned from her American peers that it's risky to pretend it could never happen again. "Information should always be accessible to the public and part of the public debate."
Transitional justice refers to the process that takes place when a country confronts its own history of human rights abuses or other atrocities. For Morocco, the class covered the Years of Lead and for the United States, the class learned about violence against people of color perpetrated or enabled by law enforcement.