What attracted you to joining a class that included a virtual exchange?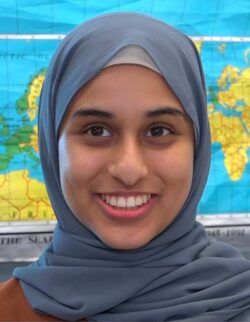 Basma: I spoke to my teacher in passing during class changes after seeing the "Morocco Partnership" flyers. I wanted to get more information on the partnership. I was attracted to the idea of interacting with the students in Morocco because we share a similar culture.
Hajar: This was a new experience for me. From the first time I heard the teachers talk about it, I decided to participate because I would [learn] more about different cultures and I would create relations and communicate with others. 
Tell us about your partner.
B: Hajar is a 16-year old Moroccan student in her second year of high school. Her favorite hobbies are drawing and reading, and she would love to try horse riding. Her favorite languages that she wants to learn and master her skills in are English, Turkish, and Korean.
H: Basma is a 16 year old Yemeni participant; she lives in the United States in Jacksonville, North Carolina. Basma is a junior in high school. She likes singing, dancing, and learning new languages and cultures, which I find interesting. She also loves to travel. Basma is a kind and lovely person; she is so sympathetic. From our conversations, I have learned she likes Turkish culture. I've noticed she particularly appreciates movies, television series, and the lifestyle.