How did you first hear about the Connect Program?
Josie C.: My university professor invited me to participate in the Connect Program as part of my International Affairs Seminar course. I thought it was a good opportunity for people like myself studying international affairs to have an international experience so I decided to join.
Sara B.: I was offered the opportunity to participate in the Connect Program by my university professor. I'm glad I was able to join my global peers and advance my interpersonal skills. Virtual exchange programs are not well-known in my community, and not many people know that these programs exist.
What were your expectations before you joined the Connect Program?
Josie: I expected the sessions to center around politics, similar[ly] to my university courses. As the program progressed, I noticed that the conversations were around more diverse topics. I ended up learning a lot about people's everyday lives and having social conversations that are different from a typical classroom setting.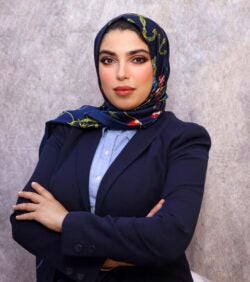 Sara: I was concerned that other participants will judge me because I'm Muslim and I wear the veil, but no one ever made me feel judged. Instead, I discovered that the Connect Program was a safe space for all participants in my group to engage with one another and embrace differences as opportunities to learn. I felt included, welcomed, and valued by my group members and grew more comfortable with bringing more of my true self to the room each week.
What skills did you gain through your participation in the Connect Program?
Josie: I felt a shift in my communication as I started engaging with other participants. I was communicating with peers from different cultures across different time zones. Everyone came to the sessions with the intention to learn from each other and share their views. There was mutual respect between us, which paved the way for our group to have meaningful conversations.
Sara: The Connect Program experience helped me improve my communication and learn how to ask questions confidently. I feel like I'm able to apply these skills in my role as a Supply Chain Associate. By being a good listener in my daily interactions, I am better at understanding the needs of my international partners. I am more aware of my role as a communicator in my interactions.