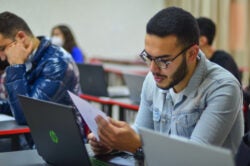 The pandemic infused virtual exchange with new and attractive value: it provided a viable way for young people to have international experiences when no other options existed. However, as pandemic-related restrictions ease, and people hunger for the return of in-person engagement, appetites for online alternatives are waning.
This is compounded by a sentiment that has haunted the virtual spaces keeping us connected for over two years – that they're never as fruitful as in-person. The perception that virtual exchange is "second best" predates the pandemic and is rooted in the idea that virtual engagement is less authentic; it only approximates reality. For practitioners in this space, this mentality is a key challenge in recognizing the full efficacy of virtual exchange.
However, young people have different perspectives on virtual and in-person engagement. Undeniably, many craved seeing friends in person again. But for newer generations that have grown up with socialization both on and offline, the veil between virtual and in-person experiences is more permeable. In other words, they do not see the virtual spaces in their lives as any less real. There are many ways to articulate the value of virtual exchange. When faced with the challenge of retaining interest that ballooned during the pandemic, highlighting how young people, the very group impacted by this learning tool, view their own reality might be our best shot.