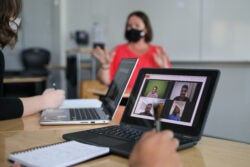 Although educators used technology to connect students globally before the coronavirus pandemic, virtual programs in international education, including and especially virtual exchange, have only accelerated in growth since March 2020. Their upward trajectory shows no sign of stopping. While virtual exchange programs provide many opportunities, such as creatively engaging students internationally when physical travel is not possible and providing access to international education for students who otherwise would not participate, they are only a worthwhile investment for participants, educators and facilitators, and other stakeholders if their impact is positive for everyone involved. Ensuring positive outcomes falls squarely on program implementers, and research is one way to explore whether these outcomes are achieved.
Why do we need to conduct research on virtual exchange?
Research on virtual exchange programs can help us gain a better understanding of what these programs are like, who participates, and what their impact is. Researchers can provide information that helps answer questions such as:
What is the difference between virtual international exchange and other virtual international programs?
What are common virtual exchange program types? Are common program types the same across sectors and levels of education?
Who participates in virtual exchange? Who does not?
When individuals have a choice about whether to participate in virtual exchange, what factors contribute to their decision-making?
Who benefits from virtual exchange and what are these benefits?
Do virtual exchange programs achieve intended student learning outcomes?
Based on answers to these questions, educators can make changes to programs that achieve more access and more inclusion, all while ensuring maximum benefit for participants.
To this last point, two recent reports have detailed the results of research that examines student learning during virtual exchange. The Stevens Initiative-sponsored Assessing Access and Outcomes in Community College International Virtual Exchange and the Initiative's own 2022 Virtual Exchange Impact and Learning Report (see page 9) employ what researchers call quasi-experimental methods to take a close look at student outcomes.