On February 19, 2020, the Stevens Initiative released its 2020 Annotated Bibliography on Virtual Exchange Research. You can access this resource here.
The body of research on virtual exchange continues to grow, but many important questions remain unanswered. As educators work to implement programs in their classrooms and as program administrators encourage schools and universities to offer virtual exchange on their campuses, they are often met with curiosity from decisionmakers who are not familiar with virtual exchange. Common questions include "what do students learn in virtual exchange?" "what examples exist of different program types?" and, maybe most importantly, "do we know if virtual exchange works?"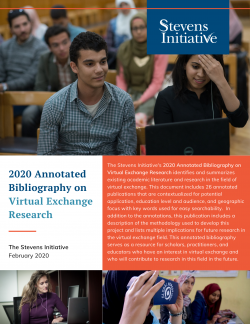 The answer to these questions is complicated. Virtual exchange has been implemented in some form for decades, but what is known about it, especially through research, often seems haphazard. Many scholars, educators, and researchers are studying virtual exchange and trying to answer these questions.  However, they often receive little funding or support for these efforts and the results seem disconnected from other projects or the wider field.
The Stevens Initiative published the 2020 Annotated Bibliography on Virtual Exchange, in collaboration with Taylor Woodman, Ph.D., to collect research in a central document, creating a resource for anyone interested in learning more about virtual exchange or doing their own research on this emerging practice.
The bibliography includes summaries of 26 publications – as well as information about keywords, the education level studied, intended audience, and geographic focus – to make these works accessible and searchable for a wide audience. Publications included in the bibliography come from many parts of the virtual exchange field, from prolific researchers such as Jon Rubin and Francesca Helm to individual case studies examining small virtual exchange programs.
The annotated bibliography not only serves as a reference tool; it also acts as a snapshot of the state of research in the field in late 2019 and provides important context needed to understand that research. In his introduction, Dr. Woodman describes today's research landscape and reflects on several possible areas for further research based on his analysis of the sources he reviewed. The topics mentioned include:
The implications of asynchronous or synchronous interactions in a virtual exchange program.
The impact of English as the default language of instruction and interaction for participant groups who speak other languages.
The appropriate role of research and effective program evaluation methods in an emerging field.
The Stevens Initiative commissioned this annotated bibliography to help establish a common knowledge base among scholars and practitioners whose work is quite varied, who are rooted in different academic fields, and who serve participants in a wide range of contexts. And while we hope this bibliography is a helpful reference, we think its greatest value will only be realized if the community uses and builds on it to advance the state of awareness about the field.
Scholars can use the implications outlined here to help inform their research agendas and future research projects.
Practitioners can draw on the articles summarized in the bibliography to demonstrate that virtual exchange programs can be an effective way to help young people build critical knowledge and skills, making the case for funding and institutional support.
Scholars and practitioners can share this publication with colleagues and decisionmakers to show not only that the virtual exchange field is gaining momentum and stature, but also that there are opportunities to make significant contributions through further research and experimentation with new program methods.
The impetus for this project came from a convening hosted by the State University of New York Collaborative Online International Learning (SUNY COIL) Center late 2018. Experts at this meeting recommended the creation of a resource similar to this annotated bibliography. The Initiative will work with members of the community to regularly update the bibliography. The bibliography – particularly Dr. Woodman's introductory analysis – has helped the Initiative in the development of two other resources recommended by the experts the SUNY COIL Center convened two years ago: a forthcoming typology that describes the different components and models of virtual exchange, along with a glossary of common virtual exchange terms, and a formal research agenda to guide the Initiative's investments and efforts in research. To follow this work, join our conversations on Twitter or Facebook and sign-up for our newsletter. To contribute to our research efforts, please email StevensInitiative@aspeninstitute.org.