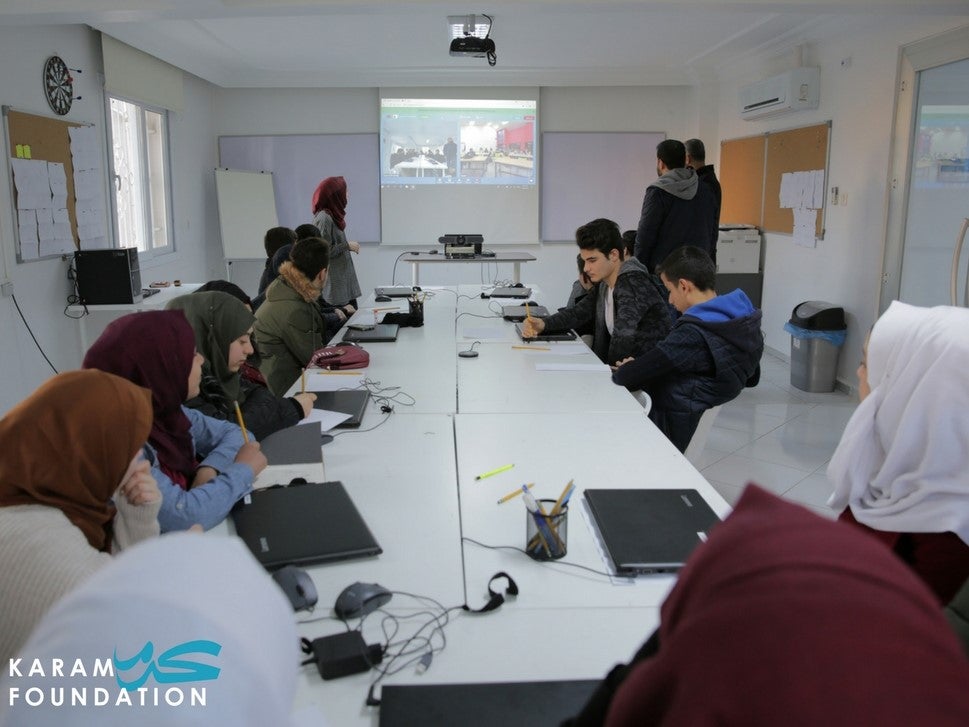 1. Tell us a little about yourself and the Innovating Across Boundaries?
My name is Ramzi Naja, and as a coach at NuVu and Education Fellow with Karam Foundation, I am responsible for running Karam House's innovative education program including the Innovating Across Boundaries project. This project was envisioned as a medium through which Syrian refugee children at Karam House could work closely on projects with American children at NuVu and NuVu partner schools in the United States. Through the collaboration, students are exposed to cultures and contexts they don't regularly encounter. Additionally, this medium offers the students the opportunity to learn skills such as coding and robotics collaboratively.
2. Describe the participants in this program.
The participants are in two primary groups. The first group includes Syrian children enrolled in Karam House in Turkey. The second group includes mostly American children enrolled either at NuVu in Cambridge, MA or at NuVu partner schools. These partner schools have innovative education programs administered by NuVu, similar to Karam House. Students are all aged 14 to 18. In addition to the student body, there are two mentors/coaches at each school, in addition to support stuff at the respective schools.
3. The program focuses on project-based learning with a focus on robotics and coding. Why is this method of learning important for both the Syrian refugee students in Turkey and the US students here?
Beyond skills training, the program developed by NuVu focuses on the thought process. Students are motivated and enabled to identify problems and tackle them by proposing, developing, and executing on solutions. Skills including, but not limited to, robotics, coding, and fabrication enable this process and help give the students agency. The implications are somewhat similar in both contexts. Syrian children will learn that they can transform their living conditions with their own abilities, and eventually can have an impact on the world. Similarly, American students will begin to identify places in their personal life where they can have greater agency, and eventually go on to have influence on a greater scale.
4. What makes the Karam House model unique?
Karam House itself is a unique environment, especially within its context. It is a place for hope for hundreds of Syrian children and their families, and today it serves as a gateway to the world for these children. Part of Karam House's unique value is the support provided by NuVu, bringing cutting edge educational methods to these children. Innovating Across Boundaries is one of several programs that give the place its identity. The Karam Foundation team is inspiring, and has created a truly unique and outstanding space for children at Karam House.
5. Why is virtual exchange important for your young participants?
In a town predominantly populated with refugees, it is often difficult for students to escape their immediate surrounding and think of broader opportunities. The virtual exchange offers this opportunity, putting the children in direct contact with their peers in the US, and thus in touch with the global setting. On a daily basis, children in Reyhanli encounter individuals with disabilities resulting from war injuries. The first virtual exchange studio is tackling this subject matter, and Syrian children are working with students in Florida on rethinking and developing prosthetics for these people.