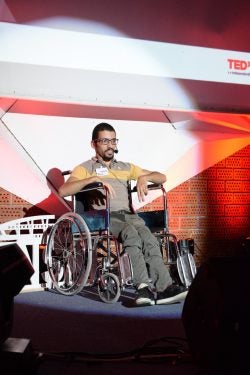 The National Democratic Institute's (NDI) Civic Tech Leadership Program brought young people from the United States, the Middle East, and North Africa together through virtual exchange to collaborate on technology-based solutions that address public-interest problems. Azzen Abidi developed a unique project idea to address this goal: a simple, easy-to-use application that would empower people with disabilities in Tunisia by connecting them with providers of essential services, such as education and healthcare. This platform, HopeR, was inspired by Azzen's experience as a person living with a physical disability in Tunisia.
Often, when international exchange programs have follow-on implementation components, students have trouble translating their ideas into reality in their own local contexts. Despite these common challenges, Azzen continues to find a way to make his idea and platform into a reality in his community. One way he has done so is by building a social enterprise in Tunisia to increase local support for his platform among stakeholders and local funders. This social enterprise, Handy Media United (HMU), empowers people with disabilities by developing custom tech solutions to improve their lifestyles and well-being.
In addition to his dedication to HopeR, Azzen focuses on other ways to move his community forward. He contributes to local youth empowerment initiatives and the burgeoning tech startup environment of Tunisia, and is an advocate for people with disabilities. No matter what project he is working on, Azzen consistently channels his energies towards youth empowerment, building inclusive communities, and breaking down destructive social norms.