Naja K., 22, and Deema K., 22, are currently facilitators for Engineering World Health's (EWH) Virtual Engineering Innovation and Cultural Exchange (VEIC) program. They participated in EWH's Summer 2020 iteration of VEIC, which brings together students from the United States and Lebanon for a course focused on low-resource design and engineering for healthcare in an international setting.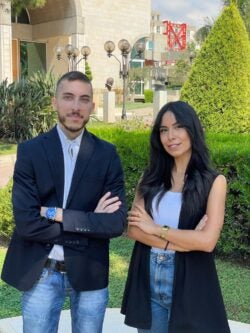 As students in last year's program, over the course of five weeks, Naja and Deema had the opportunity to meet people from different backgrounds and cultures and improve their communication and teamwork skills by working together on biomedical engineering projects. Naja's team worked on a design to improve the supply chain of medical devices in low-resource environments, a project that won the design competition at the end of the program. He still keeps in touch with his teammates from Arizona and Texas to catch up once in a while and see what they're up to. Deema's team designed and presented a low-cost, portable infant incubator alternative, through which she learned about conceptual design, functional architecture, technical feasibility, entrepreneurship, and circuit system development. 
Naja and Deema wanted to build upon what was already an enriching experience from last year's program, so when they were asked to return as facilitators, the answer was an easy "yes." From June through August, they spent a total of 12 weeks working with high school and university students from the United States and Lebanon, acting as mentors and guides as students work through self-directed learning modules, collaborate virtually in groups, and innovate solutions to global health challenges. Because of their own participation in the program prior to facilitating, Naja and Deema are able to leverage their own experience participating in the program to support current participants.  "I learned so much: I truly felt I was submerged in the different cultures," said Deema about her experience working with program participants on her teams, EWH staff, and other facilitators.