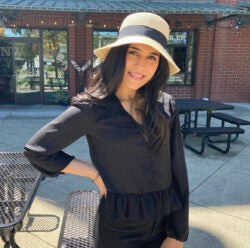 When Amandeep came to Seattle University School of Law from her home in Texas, she had no idea she would become a passionate advocate for police reform. She was simply on her own path of breaking free from expectations and knew her place was somewhere in the realm of law.   
Amandeep brought a spirit of reflection and defiance, which comes from her Sikh heritage and her Punjabi background, to her legal education, with profound effect. In the fall of 2021, she enrolled in the Transitional Justice Legal Exchange, a class that connects law students from Seattle University and Moulay Ismail University in Meknes, Morocco through virtual exchange. The course explores how each country confronts the problem of state-sanctioned violence – in the United States, police brutality against communities of color; and in Morocco, a history of government violence against political dissidents.
"Policing is very action-based work, so my final project for the class looked at how to incorporate more opportunities for reflection in the training process, something that increases awareness of bias and other cultural expectations," she said.
Following the class, she completed an externship at the Criminal Justice Training Commission, where she put concepts from her project to use. The commission serves as the training academy for police recruits throughout Washington. As part of her work, Amandeep created a law handbook for responding to domestic violence calls, which account for as many as half of the calls that officers receive. She added depictions of culturally and racially diverse people, and included names that might be unusual or difficult to pronounce. She shared statistics about the higher rates of domestic violence against people of color and immigrant women.