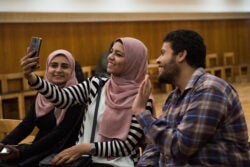 I was fortunate that my parents, who immigrated to the United States from Taiwan, knew the importance of travel. Being exposed to diverse places made me more open-minded and curious about the world. But my family vacations didn't lead to new international friendships or new skills. I would mostly take in sites, indulge in the food, and lounge around the hotel, all of which led to beautiful memories but didn't have a life-changing impact on me the way that global education can. Without the opportunity to interact with people from a different culture for a longer time and in the absence of someone to spark my curiosity and provide learning opportunities, I found myself craving to go home.
We do not need to dream up ways to engage young people in the types of experiences I yearned for when I was younger – we already have an invaluable tool at our disposal: virtual exchange. Unlike my family vacations, virtual exchange engages young people in a shared project and cross-cultural dialogue – and it also gives participants, regardless of where they live, the opportunity to learn with and from one another. It is an education tool any school or institution can incorporate into their priorities and make part of their learning environment.
I didn't have a virtual exchange experience but attending the most diverse college in Illinois sparked my desire to expand my limited view of the world and seek the opportunities waiting for me. In transitioning from my small rural farming town outside of Chicago to college, I formed friendships with new people from other races, religions, and upbringings based on mutual understanding and shared interests. This spark was by chance, but virtual exchange can do this for every young person around the world from an early age.