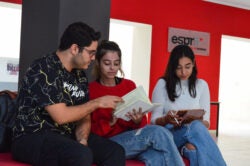 The class of first-year students studying English at Tokat Gaziosmanpaşa University in Turkey includes a refugee student from Syria, an exchange student from Nigeria, several Turkish students, and a woman from Turkmenistan – all English language learners. They are paired with a class of graduate and doctoral students at Old Dominion University in the southern United States. This class, a course on Virtual International Education, is diverse, too: a provost at a U.S. community college, an international student from Asia, and a military-affiliated student with children and limited international experience, among others. Despite their unique backgrounds, they had in common their participation in a dialogue-based exchange in spring 2022. Their virtual exchange experiences have been both challenging and eye-opening, despite their differences in age, professional experience, and nationality – or perhaps because of them.
Why a class on virtual exchange?
In response to canceled study abroad programming due to COVID-19 concerns, my department presented me with the opportunity to teach a special topics course that would attract students from our master's and doctoral program in higher education and the doctoral program in community college leadership. Previously, my co-researcher Kimberley Cossey and I had engaged in research on virtual exchanges at U.S. community colleges, focusing on the impact of the pandemic. I was eager to share my experiences from that research in a class on Virtual International Education, which includes but goes beyond virtual exchange. A key component of this class would be for students to experience a virtual exchange firsthand and to gain cross-cultural communication skills, cultural empathy, and awareness, which are critical skills for international educators of today. By engaging in a virtual exchange themselves, I hoped that students would get a glimpse into the successes and the challenges of students participating in a virtual exchange. As future higher education administrators and educators, this potentially impactful experience could then possibly lead to the students implementing virtual international education initiatives at future institutions. Student participation in a virtual exchange could also have the potential to reinforce learning outcomes for this course, such as the development of cross-cultural knowledge and skills, including communication across borders, time-zones, and languages.