The Stevens Initiative is thrilled to announce its plans to host three discussions on virtual exchange at SXSW EDU 2018.  The conference organizers allow the online community to vote and add their input on proposals, and the sessions with the most votes secure a spot to present in March 2018. We need your help in getting the word out! Please register with SXSWedu here and vote for the sessions below: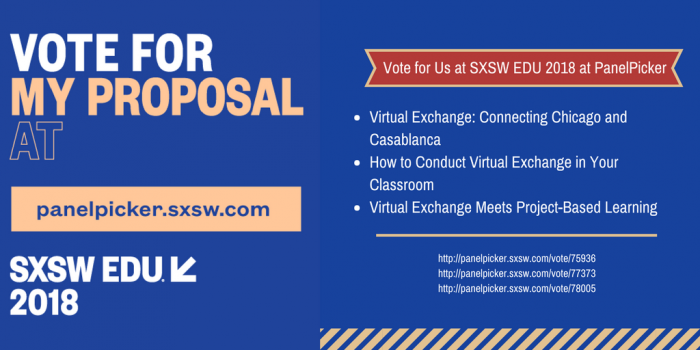 Virtual Exchange: Connecting Chicago and Casablanca: Increasingly, teachers are connecting with colleagues around the world to engage their students in online, collaborative learning. In this session, a virtual exchange practitioner will discuss how three high schools in Chicago connected with three high schools in Morocco to build a digital science exhibit for what will eventually become an online, global museum called the STEAMuseum. They will discuss how they designed and implemented the exchange, student outcomes, and offer lessons learned. Speakers will be: Lisa Roberts, Project Director, STEAMuseum; Tiffany Childress, Teacher, North Lawndale College Prep High School; Jameela Jafri, STEM Education Consultant, Chicago STEM Pathways Cooperative.
How to Conduct Virtual Exchange in Your Classroom:  How can educators incorporate virtual exchange into their classrooms? How does virtual exchange enhance student outcomes? This workshop offers educators the opportunity to learn how to connect with teachers across the globe and hear about tools and resources available to successfully implement virtual exchange in the classroom. Speakers are: Tonya Muro, Executive Director, iEARN-USA; JoEllen Delamatta, French Professor, John Handley High School; Jan McCauley, Assistant Director, SUNY Collaborative Online International Learning (COIL) Center.
Virtual Exchange Meets Project-Based Learning: Project-based learning is at the heart of many virtual exchange programs, allowing educators to build curricula around real-world problems, and fostering collaboration among students. When project-based learning is conducted in a virtual exchange environment, students from around the world have the opportunity to engage in solving common problems faced across the world. This helps enhance their global competence skills and understanding of different cultures. Speakers for this session include: Mohamed Abdel-Kader, Executive Director, The Aspen Institute Stevens Initiative; David Ross, CEO, Partnership for 21st Century Learning; Chris Plutte, Executive Director, Global Nomads Group; and Michael Lukas, Project Coordinator, UCB.
The public voting opens today, August 7th and close August 25th. Please vote and help us spread the word on how we can expand access to education through virtual exchange! Thank you for your support.