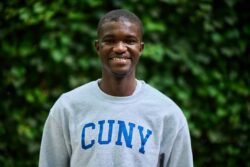 Guttman Community College student Bashir is wise beyond his years. While talking about youth activism and political awareness, he cites a popular African proverb, "The branch of the tree can only be bent when it's young, but when it's old you have to break it." Essentially, young people have a greater capacity for open-mindedness that diminishes with age. Both Bashir and American University in Cairo (AUC) student Aya have gone through a transformative experience together while part of Global Scholars Achieving Career Success (GSACS), a virtual exchange program that pairs classes in New York with classes in Egypt, Jordan, Morocco, and the Palestinian Territories to explore and develop solutions to the UN Sustainable Development Goals (UN SDGs) together. Bashir and Aya's proverbial "branches" are spry and green indeed, as virtual exchange "bent" them towards increased awareness of inequalities common across global societies.
Bashir and Aya were part of a class-to-class GSACS exchange (although they worked in different smaller groups), in which they conducted interviews with small shop owners in New York City and Cairo to explore UN SDG #10, reducing inequality.
Bashir had preconceived notions about Aya's class before they even met. He assumed that most of the architecture students from Egypt would be men, due to what he perceived as "the strict educational access and resources for women in some parts of the world," a perspective he shared with some of his U.S. classmates before having contact through virtual exchange with students in the Middle East and North Africa. However, he was pleasantly surprised to find that the entire class was comprised of women, and it dispelled the misconception that he had previously held about Egypt.