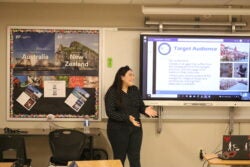 When Xitlalih and Angelica first signed up for Culturingua's Global Social Entrepreneurship Program through their social studies classes at Edison and Lanier High School in San Antonio, Texas, U.S., they were nervous but excited. Xitlalih knew she wanted to connect to others culturally, but couldn't quite fathom what it would be like to work with students across the world to solve a global problem.
On the other side of the world in Benghazi, Libya, Zakaria and Muhanad, who were participating in the same program through their English classes at the Benghazi Center for the Gifted, experienced the same feelings. "This was my first time to talk to native English speakers," Zakaria recalled, reflecting on the nervousness he felt before the program started. Muhanad shared similar feelings: "Yes, it's scary at first, I'm not going to lie, it is scary. And it's kind of daunting."
They and their 45 American classmates at high schools throughout San Antonio Independent School District and 55 Libyan classmates at high schools throughout the Libyan National Board for Nurturing the Gifted and Talented were about to embark on the Global Social Entrepreneurship Journey from September to November 2021. Participants develop a social enterprise idea that solves a United Nations Sustainable Development Goal, encouraging them to adopt an innovative, entrepreneurial mindset to solve real-world problems.
Muhanad, Xitlalih, and three other teammates chose to work on Sustainable Development Goal 6: Clean Water and Sanitation. Their group decided to create a solution to the pollution experienced in the Ganges River in India. "We decided on the Ganges because it was really interesting; it had a lot of elements that affected its pollution," Xitlalih said. "We realized that the best way to help was to sell purified water, and then with the revenue, create a fertilizer that we can get farmers to move into a more organic way of farming and so we can lessen other main pollutants."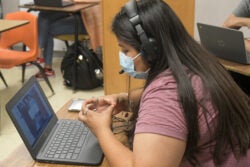 Angelica, Zakaria, and two other teammates worked together on the same Sustainable Development Goal, Clean Water and Sanitation. They devised a solution to bring clean water to a refugee camp in Nigeria by boring more holes and installing filtration systems. "We really wanted to focus on something small, and we did research and found out that they were actually going through a war over there," Angelica said. "It really hit home to the people who are in Libya, and they really wanted to focus on that and help out," as she reflected on her Libyan peers' recent experiences living through a civil war themselves.
To create their social enterprise idea, students worked both synchronously and asynchronously with their peers. The eight-hour time difference of their synchronous meetings made them realize the size of the world. "Our Zoom meetings are from 3:30 p.m. to 4:30 p.m.," Muhanad said. "And for them, it's the first lesson in school. So, it just gives you the feeling of wow, this world is big. It's morning for them, it's afternoon for us, and we're talking live."