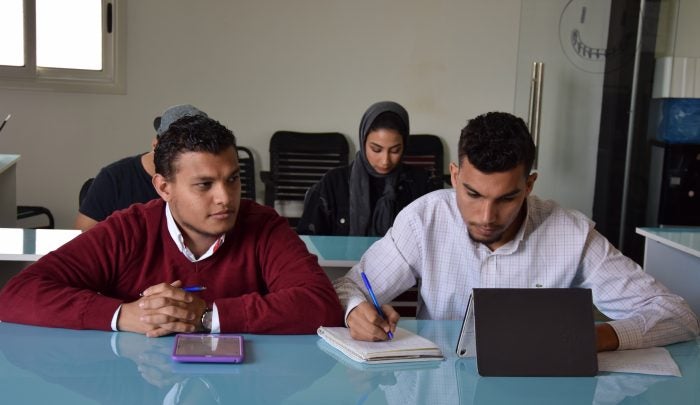 This Stevens Initiative supported program connects hundreds of undergraduate students in Egypt, Libya, Morocco, Tunisia, and Michigan (U.S.) to work on cross-cultural, virtual teams to develop business ideas that create social change.
Among them are twins Abdalrahim and Joma Braika who live in Benghazi.
Originally from Palestine, the brothers came to Libya seeking better educational opportunities. Throughout their schooling, the ambitious pair ran their own clothing delivery service. When they joined the M2GATE program, they expanded their entrepreneurial outlook to ventures "which have a social effect on our society," says Joma.
Their team, "The Eagles," decided to focus its project on education in Libya – specifically, the lack of technology in learning. For the Braika brothers, the interest was personal: The prolonged Libyan civil war significantly damaged the country's educational infrastructure. The M2GATE program was the brothers' first exposure to educational technology. "It was really very amazing," says Abdo.
Over the eight-week program, with the guidance of the M2GATE online curriculum and their local mentor, team Eagles designed an app to facilitate learning technology in Libyan classrooms. Their ultimate goal is to make Libyan youth more employable.
"Joma and Abdalrahim Braika showed a very great commitment," says Eagles' mentor Younes Nagem of Benghazi Youth for Technology and Entrepreneurship (BYTE). "The M2GATE program helped them a lot by providing skills and tools they can use in their initiatives."