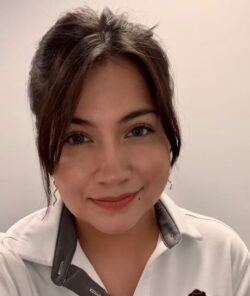 As a construction engineering student, Sapphire's academic experiences were mostly focused on her field of study prior to participating in HIVER. Collaborating through virtual exchange gave her a multidimensional educational experience. "It was a really rewarding experience that helped me become more confident in my ability to express my opinions," said Sapphire. "Before HIVER, I used to be quite tense whenever I was asked to give a presentation or speak in public. HIVER helped me to harness my communication skills and also allowed me to understand and value cultural diversity, which enabled me to interact with people from various backgrounds in a much more engaging manner."
For Raghad, the opportunity to be involved in cross-cultural activities with American students wasn't even an aspiration that she could look forward to achieving when she began university. "If you'd told me when I first enrolled in the university that I'd be where I am now in terms of cross-cultural, personal, and communication skills I wouldn't have believed you… And this is all, in no small part, due to the learning that I was part of in HIVER," said Raghad. The personal, educational, and communication skillsets that are developed though HIVER are not always a part of regular curricular activities at public universities in the MENA region, so Raghad felt grateful for the opportunity to gain these skills in a course enriched with virtual exchange. She found the experience so exciting and educational that she later enrolled in all courses with a HIVER component offered at her university.
Both Sapphire and Raghad highlighted the transformative nature of their HIVER experiences. At the start of the collaboration, Sapphire didn't know what to expect from her Egyptian peers in the virtual exchange sessions. As the sessions unfolded and the group work ensued, she was amazed by the work ethic and methodical approach of the Egyptian students. "They work really hard…I was amazed by their commitment, dedication, and willingness to spend hours working on a specific challenging situation," she said.